Proposed budget: 7.6 billion EUR (2021-2027)
As part of the next long-term EU budget – the Multiannual Financial Framework – the Commission has proposed Digital Europe, a programme focused on building the strategic digital capacities of the EU and on facilitating the wide deployment of digital technologies. With a planned overall budget of €7.5 billion, it will shape and support the digital transformation of Europe's society and economy.
The programme will boost investments in 5 specific objectives (SO):
SO1: High Performance Computing (€2.2 billion)
SO2: Artificial intelligence, data and cloud (€2.1 billion)
SO3: Cybersecurity and trust (€1,7 billion)

SO4: Advanced digital skills (€580 million)

SO5: Deployment, best use of digital capacity and interoperability (€1,1 billion)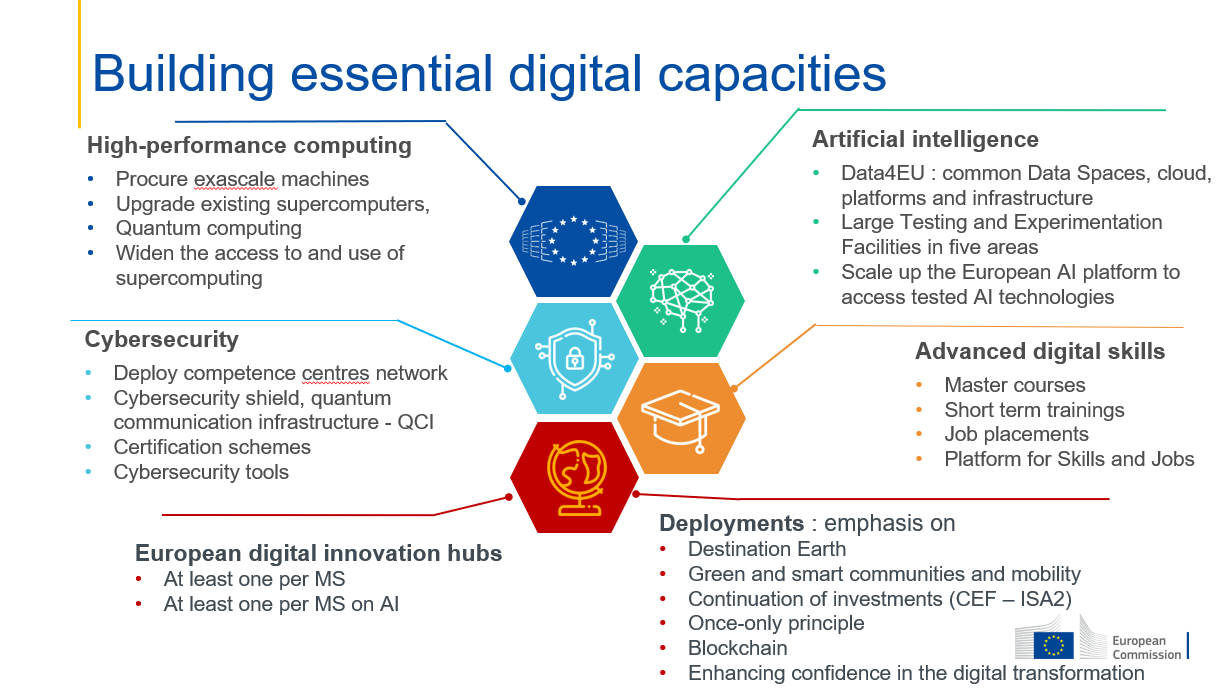 The first four SO are focused in capacity building in 4 key areas, while the SO5 accelerates and ensures a wide use of digital technologies across the economy and society, including the Digital Innovation Hubs. Digital Europe Programme main goal is to improve Europe's competitiveness in the global digital economy and achieve technological autonomy.
Funding activities
Procurements;

Grants (mostly co-funded at 50%; some with 75% for SMEs);

CSA (funded at 100%);
Provisional and non binding CALENDAR
See below all the Delegates/Representatives contacts
Coordination: Susana Caetano (FCCN, unidade FCT)
programa.europa.digital@fccn.pt
SO1: João Nuno Ferreira (FCCN, unidade FCT)
ferreira@fccn.pt
SO2: Sofia Azevedo, Cristiana Leandro (ANI), Joelma Almeida (FCCN, unidade FCT), supported by José Pedro Borrego (ANACOM)
sofia.azevedo@ani.pt ; cristiana.leandro@ani.pt; joelma.almeida@fct.pt
SO3: Pedro Matos (CNCS)
pedro.matos@cncs.gov.pt
SO4: Sandra Martins (FCCN, unidade FCT)
sandra.martins@fccn.pt
SO5: For specific queries about deployments please contact
EDIH: pedro.cilinio@iapmei.pt; sofia.azevedo@ani.pt ; cristiana.leandro@ani.pt; AnaCosta.Paula@dgae.gov.pt
Green Deal: sofia.azevedo@ani.pt ; luis.maia@ani.pt ; susana.caetano@fccn.pt
Blockchain & Gov. Ecosystem: claudia.barroso@ama.pt ; tiago.mendonca@ama.pt
Safer Internet: pedro.matos@cncs.gov.pt
For general questions email us at programa.europa.digital@fccn.pt