Research infrastructures include facilities, resources and related services that are used by the scientific community to conduct top-level research in their respective fields and covers major scientific equipment or sets of instruments; knowledge-based resources such as collections, archives or structures for scientific information; enabling Information and Communications Technology-based infrastructures such as Grid, computing, software and communication, or any other entity of a unique nature essential to achieve excellence in research.
RIs have the potential to enhance society's long term and consistent problem-solving capacity, and new efforts are now needed to ensure the provision of customised, impact-oriented RI services and resources to accelerate the transition towards a socially inclusive green and digital future and to support an effective and responsive health system as well as evidence-based policy-making.
The Research Infrastructures Work Programme
The RI Work Programme under Horizon Europe will address the global environmental, social and economic challenges, in line with the renewed ERA, which requires an explicit contribution of research and technology infrastructures into Europe's wider policy objectives, thus maximizing the contribution of science and technology to the needs of the society and increasing Europe's competitiveness.
The RI Work Programme is structured around five Destinations. The Destinations will include calls for proposals. Each Call for proposals will include one or more topics, all with the same deadline.
Destinations: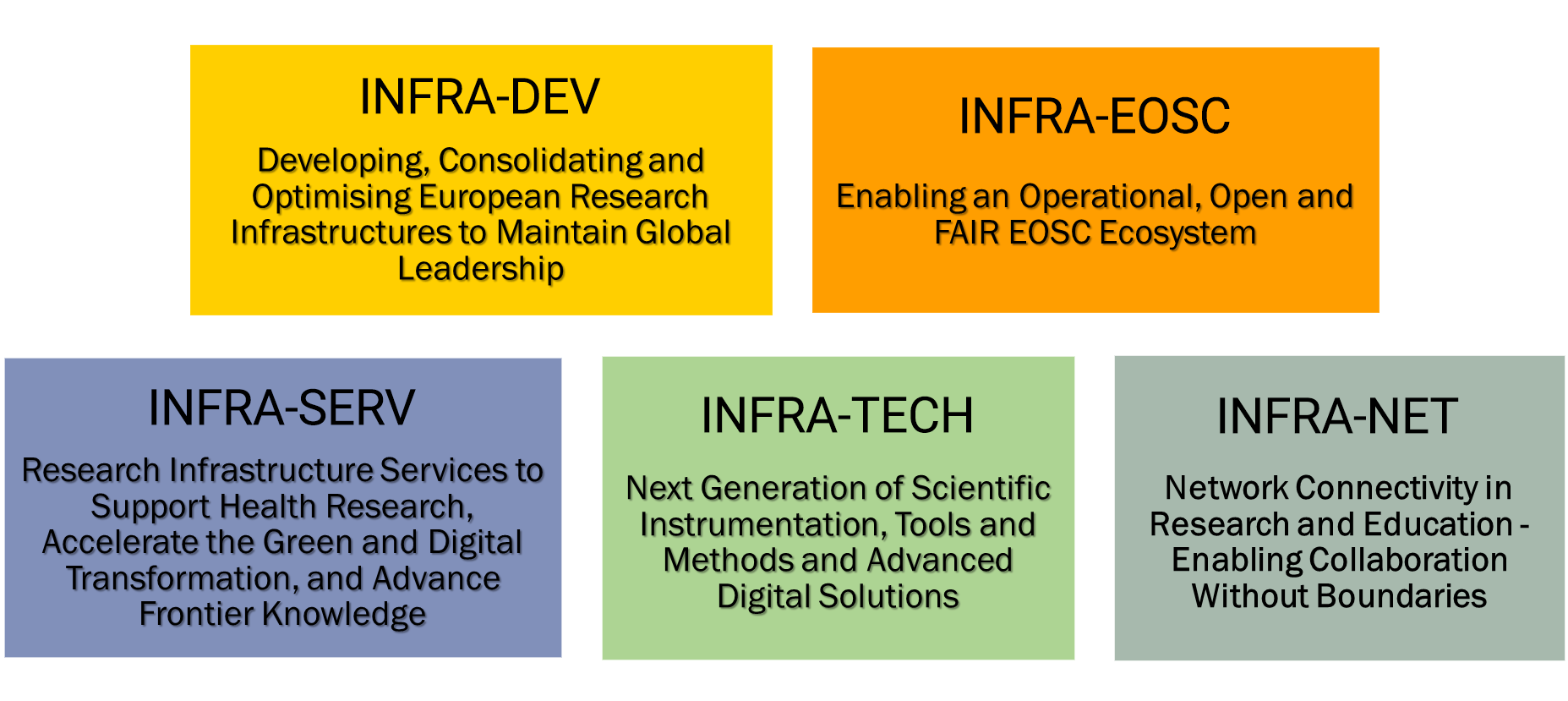 Next call is HORIZON-INFRA-2021-DEV-02: Developing, consolidating and optimising European Research Infrastructures landscape, maintaining global leadership
Opening date: 30th September | Deadline: 20th January 2022
This call has two topics:
Important Tips to Applicants
Read the Documents & Links Section carefully

RI presentation by PERIN-FCT
RI Work Programme (includes a Call Calendar for 2021-2022)
FAQs
Contact the National Contact Point for the Horizon Europe RI Programme, your Research Support Office of your potential Host Institution and participants in past or ongoing H2020 RI projects in your region.