National researchers raised € 34 million with 22 projects approved in the Twinning and ERA Chairs contests under the Spreading Excellence and Widening Participation (Widening) program included in the European Union Framework Program to support research and innovation, Horizon 2020. National entities thus obtained a success rate of 32%, higher than the European Union average of 18%.
A significant part of the approved projects are in the health area, namely in research into new antiviral therapies and immunology, brain and neurological diseases and in the health of aging. Approved engineering projects focus on food security, food biotechnology, sustainable energy systems, sustainable materials and digital. There are also projects financed in the areas of marine biotechnology, environment and social innovation.
This funding will be directed to integrate national entities in international reference collaboration networks, with a view to developing specific research fields, and to attract and retain highly qualified human resources.
The North was the region of the country to obtain more financing, 13.5 M €, and Lisbon and Vale do Tejo was the region that got the most approved projects (9). In Alentejo, the project "Waste to Hydrogen", from the Polytechnic Institute of Portalegre, received a financing of almost 900 thousand euros.

Widening projects approved in Portugal in 2020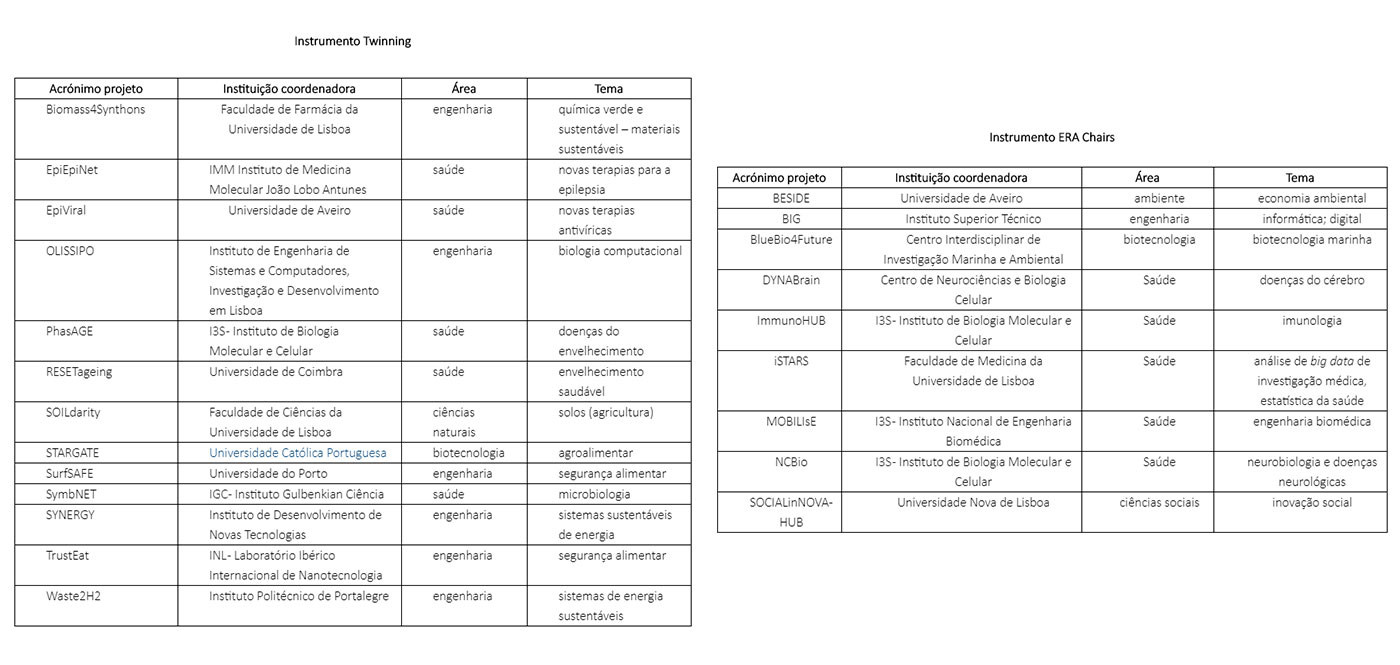 About the Widening program
It is part of the Framework Program to support research and innovation in the European Union, Horizon 2020, and consists of four instruments: Teaming, Twinning, ERA-Chair and COST Actions. In the last call launched under the Horizon 2020 Widening program, opportunities were tendered under the Twinning instruments and the ERA Chairs:
Twinning – supports an institutional collaboration network that aims to strengthen a specific research field in an institution with high scientific potential in a Widening country, which is linked to at least two leading institutions in Europe. Activities include exchanges of researchers, visits by experts, training activities, organization and participation in workshops and conferences, dissemination and communication.
ERA Chairs – aim to attract highly qualified human resources (the researcher / the ERA Chair and his team) to universities and research centers, as well as to implement the structural changes necessary for these academic or research institutions to achieve scientific excellence in a sustained manner.