The so-called Horizontal Activity of Horizon Europe is by nature transversal and complementary to all funding schemes in Horizon Europe and other European Funding Programmes. Aims at Institutional capacity building, regional development, and it is targeted to attract and nurture talented investigators. Excellence is everywhere, it just needs to be discovered and to be connected!
Challenges addressed:
Disparities between national R&I systems (R&I divide is a reality), which translate into low participation levels and below average success rates;
Information and language barriers;
Lack of professional contacts and research networks, as well as supporting management/administrative structures;
Lack of leadership experience and specialised training at research organisations in proposal submission and transnational collaborative projects;
Low connectivity and little experience in cross‐country cooperation;
Generally, low focus on R&I in policy and in business and few options for exploitation of research results at the national level.
Goals and Objectives:
Incite reforms and transformation processes
Mobilise national investments
Raise the bar for excellence of R&I actors
Increase participation levels and success rates
Promote the creation and upscaling of innovation ecosystems
Foster brain circulation and inter-sectorial mobility
THE DIFFERENT TYPES OF WIDENING CALLS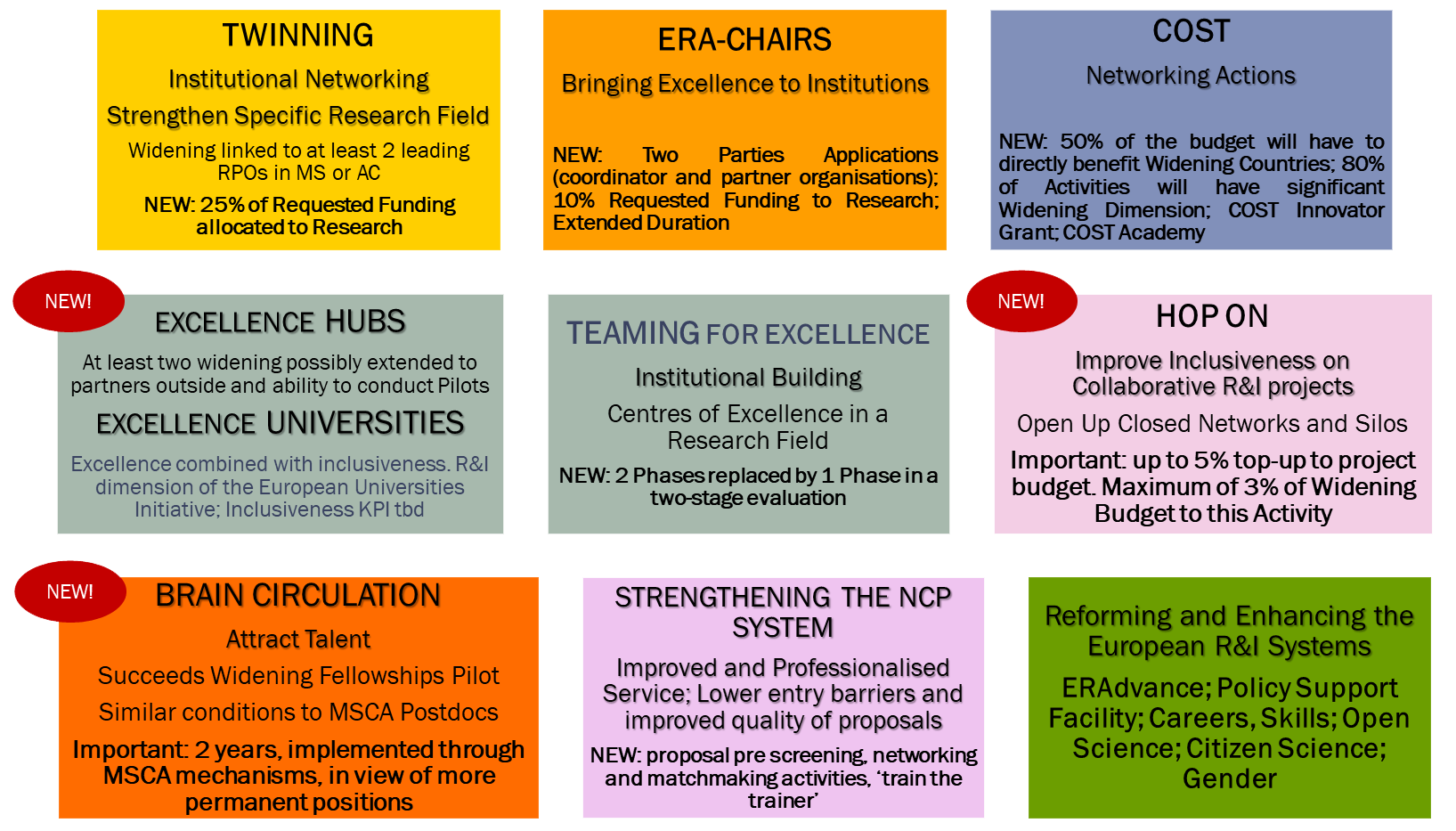 Important Tips to Applicants
Read the Documents & Links Section carefully

Widening Presentation by PERIN-FCT
Widening Work Programme (includes a Call Calendar for 2021-2022)
FAQs
See the Widening Open Calls
Link to COST webpage at FCT

Contact the National Contact Points for Widening, your Research Support Office of your Host Institution, and past or ongoing successful widening projects in your region.